LOCATION
The deep valley called "Gravina Madonna della Scala" is a typical example of how humans live inside the caves in the past. Our Masseria is located on the North of the "Gravina Madonna della Scala", thus having the same geological characteristics and the same old name (Rose Valley).
The connection between our location and old cave villages is proved by traces of old human settlement. For those who love walking, all the areas around our Masseria are accessible for both walking and cycling tours, and this is the best way to enjoy the natural, artistic, cultural, food and wine heritage of our place and our city Massafra. Furthermore, our location is just few kilometers away from very famous tourist destinations as Alberobello, Castellana Caves, Matera, Taranto.
FARM ACTIVITY
We have eleven hectares of farmland surrounded by the countryside drywalls, typical in our area. The farmland includes arable crops, olive groves, orchards and vegetable gardens. Just next to our farmland border there is a massive nut tree. Seasonal production (oil, wheat, beans, eggs, vegetables and seasonal fruit) provides zero- mileage and environmentally friendly products. We also provide bread, biscuits and our typical dry bread "friselle". The flour to make all these delicacies is made by our small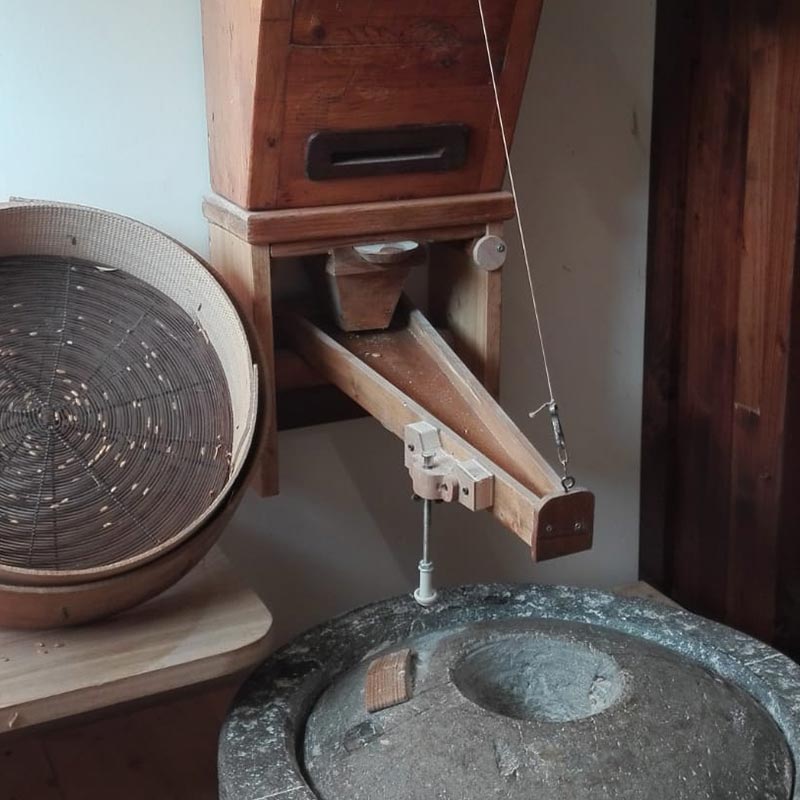 Stone MillStone Mill that grinds our farmland wheat. The living location inside the old Masseria has been recently renovated and it can give you a really warm welcome and a pleasant stay. Far from the highways and other tourist buildings, you can enjoy the silence, which can ease the connection with yourself and with the Nature itself.
FRIEND OF ENVIRONMENT AND NATURE
Constantly looking for the direct connection with Nature and its Law, we are following some rules:

Solar panels and closed fireplaces for the heating systems and the production of domestic hot water;
90% recycling;
Collection and re-use for irrigation of rain water with two 60 cm tanks;
Biological zero-mileage food;
Low consumption electricity;
Biological home cleaning and personal care products;
Gearboxes for water flow;
Growing our plants and orchard with natural methods, without chemicals or fertilizers.
We will always be focused on advanced ways to protect and respect our Environment.
ROOM OF CONVIVIALITY
This is a common room, used not to only for eating meals, but mainly for precious moments: deep reading, self-meditating, deep thinking, meeting. In a mutual listening and sharing atmosphere, it's possible to share opinions about Art, Music, Literature, Actuality news. The room could be potentially equipped for small music concerts, theatre performances, book introductions, as well as political, philosophical, artistic and scientific conferences. These experiences have to enlighten the wonder of all human differences. All common areas like the Terrace, the gazebo and the grass could help to enjoy these sharing moments. In the room there is also a small kitchen for self-made breakfast and other personal needs.